Industrial Cartridge Filter Housing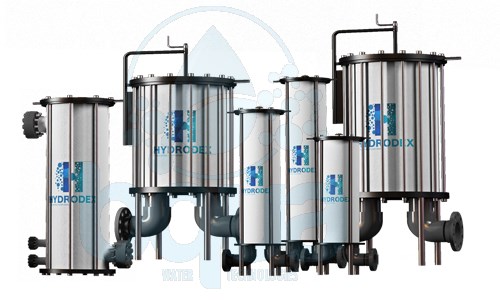 BQUA is a proud distributor of the Hydrodex Cartridge Filter. Considered one of the best in the market, the Hydrodex Industrial Cartridge Filter is a premium FRP cartridge filter housing which is made out of the finest GRP resins and the industry's top rated materials. Its design meet and even exceed the ASME Code Section X, and all wetted materials meet the FDA CFR title 21 requirements. The Hydrodex Cartridge Filter is a maintenance free, rigid and everlasting industrial filter.
Hydrodex has employed the advantages of FRP material and used its special inherent strength and corrosion resistance technology to provide a superior filter vessel that is the best choice for a wide variety of uses.
Cartridge filters flow rates are designed at 5 gpm per 10″ equivalent of filter cartridges which is the recommended flow rate for sizing.
The Hydrodex line of vessels and filtration systems provide exceptional chemical resistance and outstanding tensile strength.
All housings are constructed from a proprietary fiberglass reinforced plastic barrel manufactured with a flexible and fatigue-resistant vinyl ester resin.
Seamless construction adds strength and longevity.
Engineered to minimize downtime; easy to clean and replace parts.
Internal components are constructed of PVC. Polycarbonate and Polypropylene available for specialized applications.
Externals are constructed of anodized ASME accepted aluminum & 316 stainless steel with other materials optional.
Buna O-rings are standard, Viton is also available upon request.
Clicking on the image below will take you to Hydrodex website to explore their different series of Cartridge Filters.